Noah Medical: Helping Physicians By Building Essential Endoluminal Technologies
Noah Medical is a medical robotics company that delivers adoptable clinical solutions through innovative endoluminal technologies to enhance the quality of life for patients globally. To learn more, Pulse 2.0 interviewed Noah Medical founder and CEO Jian Zhang, Ph.D.

- By Amit Chowdhry
---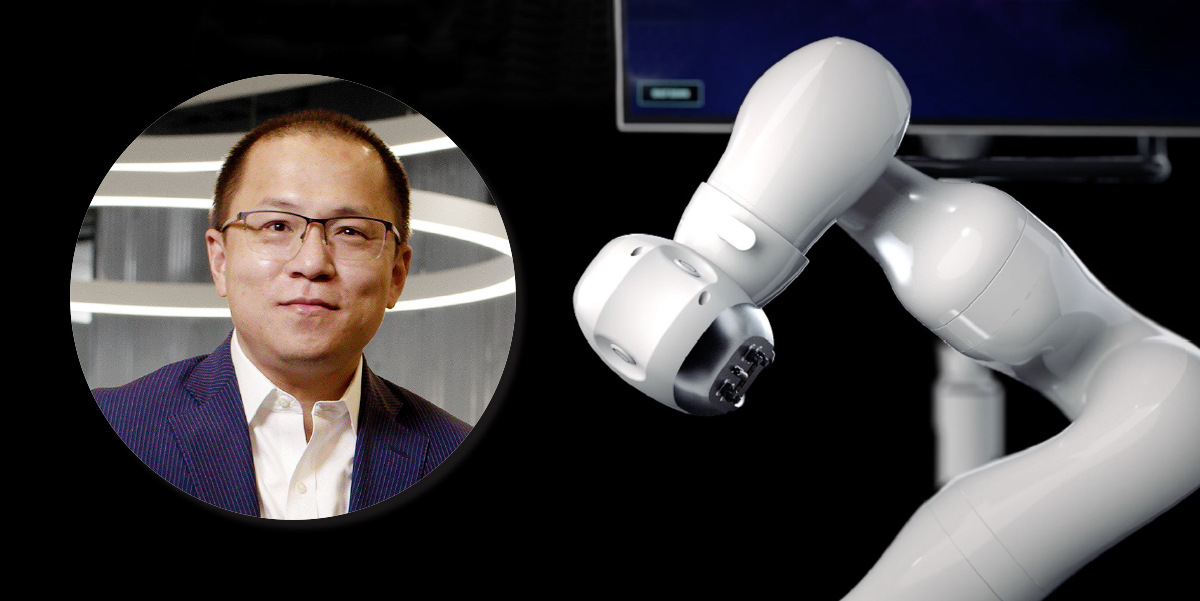 Zhang is considered a serial entrepreneur. "Prior to Noah Medical, I co-founded two other successful startups where I served as the CEO. In addition, I was employee #2 at Auris Health, which was acquired by Johnson & Johnson for $5.7 billion in 2019. Immediately prior to joining Auris, I worked at Intuitive Surgical. I have my MS and Ph.D. from Columbia University," said Dr. Zhang.
Formation Of Noah Medical
How did the idea for Noah Medical come together? "I founded Noah in 2018 with the intention of providing better clinical value to customers who were unhappy with the earlier generation of medical robots. We also have a goal to bring clinical efficiency to customers that exceed the current standard of care. In true Silicon Valley fashion, we started in a garage in Redwood City. The company focused heavily on R&D during the pandemic and then as we grew moved into a larger facility in San Carlos in 2021," Dr. Zhang shared.
Favorite Memory
What has been Dr. Zhang's favorite memory working for Noah Medical so far? "Truthfully, every day is memorable. It's amazing to see how we've put together such a great, world-class team in the medical robotics field. We have also built a great culture that continues to grow with our startup. Our Galaxy is the first of its kind, delivering unmet needs for physicians and patients. The past 3 years have passed by quickly and we have transformed the company from an R&D house to a full bloom commercialization organization during one of the most challenging times the industry has faced," Dr. Zhang reflected.
Challenges Faced
What have been some of the challenges Dr. Zhang faced in building the company and has the current macroeconomic climate affected the company?

"Noah Medical is pioneering the next generation of medical robotics. There are many challenges in any startup and Noah is no exception. But we continue to grow and see success because we built out our team by assembling more than 150 experts in medical device engineering, robotics, software, clinical applications, and business leadership from healthcare organizations worldwide," Dr. Zhang acknowledged. "While the macroeconomic climate can be challenging, we believe we are also at an inflection point in the industry where deep collaboration with physicians presents a unique opportunity to usher in a new world of robotic platforms that enhance the quality of life for patients. We are fortunate that we are able to make such big progress during such a rough economic environment. The macroeconomic climate is challenging for every startup and we will do our best to survive and then thrive."
Core Products
What are Noah Medical's core products and features? "Noah takes pride in its approach to designing our robotic solutions. We work closely with physicians to understand gaps and problems, then incorporate their feedback and expertise directly into the design of our products. Our first robotic platform, the Galaxy System, is designed to alleviate many of the shortcomings of earlier solutions," Dr. Zhang explained. "It features TiLT+ Technology with integrated tomosynthesis and augmented fluoroscopy. With its always-on-camera bronchoscope, direct visualization is enabled for the entire procedure, including at the time of biopsy. With purpose-built 4-way bronchoscope articulation, navigation to even the most peripheral lesions is possible. In addition to the proprietary TiLT Technology, Galaxy also employs a single-use scope (unique amongst all robotic lung biopsy robots) which is designed to allow for more efficient procedures with reduced risk of contamination and patient infection. The system currently has the smallest footprint of all robotic bronchoscopy systems on the market, making it easy to stow, set up, and clean, even in the smallest of bronchoscopy suites. It is the only medical robot system designed to have a single power cable out of the integrated system, this was designed to make the clinical workflow and logistics extremely simple."

The Galaxy System received FDA Clearance in March of this year and will be launched in the coming months.
Most Significant Milestones
What have been some of Noah Medical's most significant milestones? Dr. Zhang noted that they had multiple significant milestones in the last few years as they moved the Galaxy System from R&D to full commercialization with FDA approval.

This includes:

— FDA CLEARANCE: Noah announced on March 2, 2023, that the Galaxy System received FDA clearance for Robotic Navigated Bronchoscopy.

— SERIES B FUNDING: In April 2023, the company made a public announcement about its previously closed Series B funding in the amount of $150 million.

— MATCH STUDY: Noah's first preclinical study, the MATCH study, was published in April in the Journal of Bronchoscopy and Interventional Pulmonology. The goal of this animal study was to confirm with certainty that Galaxy's TiLT Technology could achieve tool-in-lesion. Tool-in-lesion confirmation is critically important as it is deemed a predicate to positive biopsy and diagnosis of cancer. The results showed that tool-in-lesion can be reached 95% of the time and diagnostic yield 100% of the time.

— BAY AREA RESEARCH & TRAINING FACILITY: Approximately 12 months ago Noah Medical opened its first research and training facility. The new San Carlos facility, less than a mile from Noah Medical's headquarters in San Carlos, expanded Noah's R&D capabilities and engineering team to bolster investigational capabilities and new pipeline product development.

— FRONTIER STUDY: In early 2023, an ongoing trial at Macquarie University Hospital in Sydney, Australia was unveiled. The FRONTIER study is a first-in-human trial focused on the safety and feasibility of the Galaxy System enrolling a small cohort of patients with the goal of successfully navigating to and biopsying peripheral lung nodules. Physician feedback from the procedures completed thus far has been highly positive.
Funding
Noah Medical recently announced a $150 million Series B round of funding. This funding round will be used for continued hiring to support the Galaxy System's commercial rollout and to accelerate R&D for other non-invasive diagnostic and treatment platforms.
Total Addressable Market
What total addressable market (TAM) size is Noah Medical pursuing? "In 2023, an estimated 238,340 people (117,550 men and 120,790 women) will be diagnosed with lung cancer, and 127,070 people will die from the disease in the US. It is also estimated that many nodules are never diagnosed due to low screening rates and missed diagnosis," Dr. Zhang cited from a study.
Differentiation From The Competition
What differentiates Noah Medical from the competition? "Our first robotic platform, the Galaxy System, is designed to alleviate many of the shortcomings of earlier solutions. By integrating real-time navigation and using a novel tool-in-lesion technology, the system brings everything together in one easy-to-use, compact solution. Early animal data published in March of 2023 suggests that the Galaxy System with its TiLT+ Technology can achieve 100% successful navigation to the lesion, 100% diagnostic yield, and 95% tool-in-lesion accuracy, without the need for additional expensive imaging technologies. So no more sweating over divergent CT scans or second-guessing whether or not the tool is in the lesion. The Galaxy System is designed to allow physicians to find, biopsy, and diagnose lesions with confidence. The Galaxy System also offers a single-use, disposable bronchoscope. This scope was designed to help reduce the risk of cross-contamination and patient infection, and reduce reprocessing time while also improving procedural workflow," Dr. Zhang explained.
Future Company Goals
What are some of Noah Medical's future company goals? "Noah Medical is building the future of medical robotics, and the Galaxy System is only Noah Medical's first commercial robotic system. The company's mission is to deliver adoptable clinical solutions through innovative endoluminal technologies to enhance the quality of life for patients globally," Dr. Zhang concluded.
---