Importance of Investing in Healthcare and MedTech R&D
Jian Zhang: Technology has always been a vital ally for healthcare. From diagnostic capabilities finding disease earlier to therapies that increase the quality of care, improve clinical efficiency, and lower cost. But healthcare has been slow to adopt technology because innovation can be long, incremental, and path-dependent. This is especially true when examining investment in research and development (R&D), a crucial component of the development of tech-enabled solutions.
---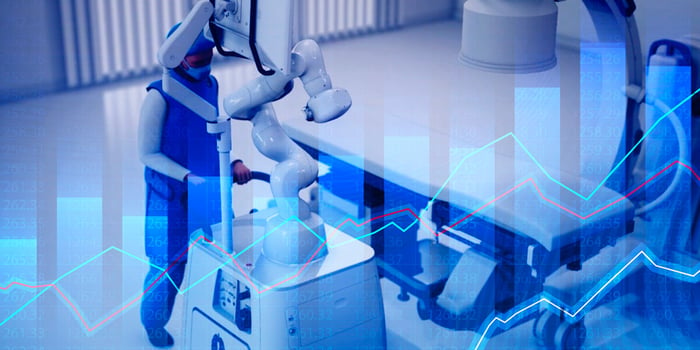 This is typified by medical robotics. The healthcare robotics landscape is primed for dramatic change and an influx of new entrants over the coming decade with the industry projected to be $20B by 20301. The first generation of pioneering robotic technologies has paved the way for new technologies that aim to fill growing innovation gaps in medical applications. From diagnostic and surgical robots to those used in novel ways – these new opportunities will launch a boom in companies coming to market or expanding their current offerings.

In turn, this could set off a corresponding arms race in R&D efforts to counter the slow investment to date. That will create fierce competition amongst both new entrants and established players for three valuable resources – funding, talent and facilities.

If healthcare robotics follows trendlines in medical devices and medtech, R&D investment might also become a prerequisite to a successful commercial adoption. In the traditional medtech sector, the preponderance of acquirers essentially outsource their R&D and early commercialization efforts to others, allowing startups and innovators to identify openings and build early traction before snapping them up. This historical trend may be disrupted by the new technology startups and new waves of fundings that are investing for the long term.

In this R&D battle, healthcare robotics leaders should work early to differentiate themselves within the market and create a defensible beach head as they compete for:



Funding
Healthcare robotics is a capital intensive business, and new numbers reflect the growing attention being paid to the sector by investors. According to CB Insights, medical device deals grew 63% to top $5 billion in funding for the first time in the third quarter of 20202. Surgical robotics deals were a significant driver of that volume. A surgical robotics maker also cracked the top ten in UK and US healthcare venture deals in 2021 with CMR Surgical securing $600M in a Series D for fifth place on the list. And there is a lot of related movement with announcements like Intuitive's creation of a $100M venture fund for early stage surgical robotics companies3.


Talent
While funding may be readily available, talent is in shorter supply. Technology fields have faced a lack of available talent to fill open roles for years, and the competition for robotics engineers and staff comes at an even greater premium. This is reflected in the broader robotics field where Korn Ferry predicts that companies might have to invest in re-skilling efforts to fill positions, especially those based in rural areas since talent tends to migrate to urban centers. From engineers to software developers to machinists, competition for healthcare robotics talent will be fierce and companies should be prepared to spend considerable time and resources to attract the very best.


Facilities
Unlike healthtech applications that leverage wearables or digital platforms, robotics often requires testing and proving in relation to a physical environment. It also demands rigorous production facilities and standards. Not to mention testing capabilities to secure FDA clearance. All that means real estate – and lots of it. Just in the case of Noah Medical, we've already secured, updated and opened two new facilities in addition to our existing 12,000 sq ft headquarters in the Bay Area. This space is critical as we develop, test and build our future technologies.

It's difficult to discern industry winners or determine momentum based on funding announcements alone because it's easy to create hype around smaller or early funding rounds, or simply because some important players are being stealthy about their fundraising efforts. Given this, perhaps a more grounded way to measure a company's success may be to look at the pool of talent that chooses to work there or their approach to brick and mortar expansion.



Editor's Note: About the author Jian Zhang:

Jian is a serial entrepreneur. Prior to Noah Medical, Jian also co-founded two other successful startups and served as the CEO. In addition, he was employee #2 at Auris Health, which was acquired by Johnson & Johnson for $5.7B in 2019. Prior to joining Auris, he worked at Intuitive Surgical. Jian received his MS and PhD from Columbia University.
1 Robotic surgery startups help drive Q3 medical device funding over $5B, an all-time high
2 Surgical robotics developer leads device makers in top healthcare VC deals
3 Da Vinci robotics maker launches $100M VC fund
---