Noah Medical Continues Momentum, Named Both "Best Healthcare Robotics Company" and a "Bay Area Best Places to Work"
Medical Robotics Innovator Wins Honors from MedTech Breakthrough and Bay Area Business Journals on Heels of $150 Million Series B Announcement and Recent FDA Clearance
---
San Carlos, CA – May 10, 2023 - Medical robotics innovator Noah Medical today announced it was named the "2023 Best Healthcare Robotics Company" in the 7th Annual MedTech Breakthrough Awards Program. The company also announced its inclusion in the Bay Area "Best Places to Work" annual listing produced by the San Francisco Business Times and the Silicon Valley Business Journal. These accolades highlight Noah Medical's innovative approach to next generation robotics and recognize its ongoing commitment to fostering an engaging and supportive workplace environment.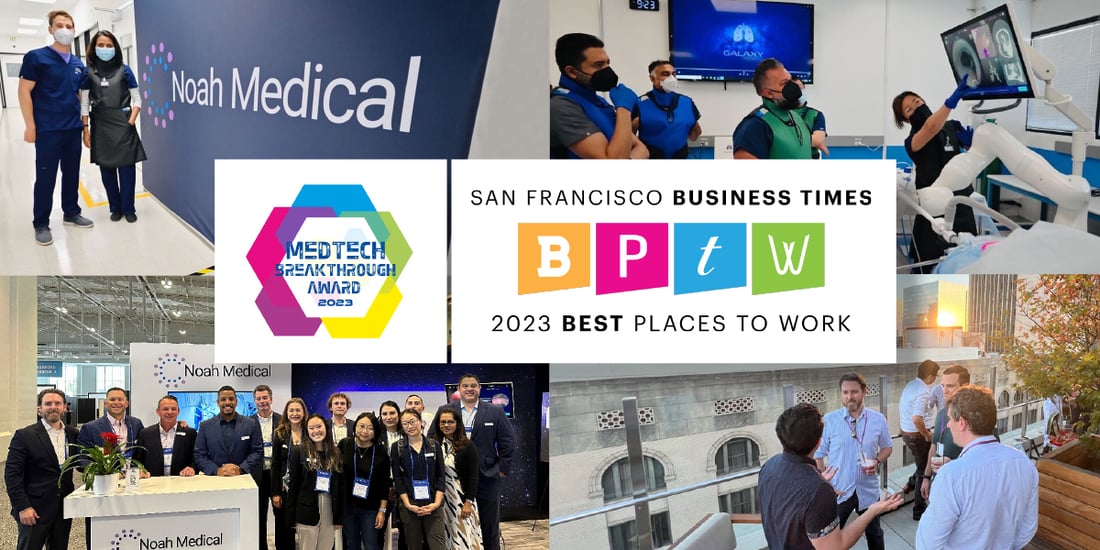 "We appreciate the organizers for recognizing Noah Medical for these awards in technical innovation and culture development as both are critical to our success," said Jian Zhang, PhD, Noah Medical founder and CEO. " Noah Medical is pioneering the next generation of robotics but it would be impossible to achieve this ambition without team members who contribute to Noah's success and are committed to our mission."

The Galaxy System™, Noah Medical's first commercial robotic system, was chosen as a breakthrough robotic-assisted platform for peripheral lung biopsy by the prestigious Medtech Breakthrough Awards program, earning the company the "2023 Best Healthcare Robotics Company" designation. This year's program attracted more than 4,000 nominations from over 17 different countries throughout the world.

The Best Places to Work is an annual contest in the Bay Area that recognizes outstanding organizations where employees feel heard, cultures are thriving, and engagement levels are high. Unlike many other awards programs that rely on subjective evaluations, Best Places to Work uses an employee engagement survey as its only scoring mechanism.

Both awards come on the heels of Noah Medical's recent announcement of its previously closed series B funding, its FDA clearance for commercial use in the United States and its first-in-human trials at Macquarie University Hospital in Sydney, Australia.

To learn more about Noah Medical and the Galaxy System, please visit noahmed.com

About Noah Medical
Noah Medical is building the future of medical robotics, and the Galaxy System is Noah Medical's first commercial robotic system. The company's mission is to deliver adoptable clinical solutions through innovative endoluminal technologies to enhance the quality of life for patients globally. Based in Silicon Valley and backed by well-known institutional investors, our incredibly talented team of engineers, innovators and industry leaders bring years of experience from the top robotics, medical device and healthcare companies in the world.


Media Contact:
Adam Marsh
PR for Noah Medical
408-464-3732
press@noahmed.com


---